Do you want to know why your Facebook reach and engagement have decreased? Well, you are not alone. The average reach for Facebook postings fell by 2.2 percent in late 2019. For brands, this meant that only 5.5 percent of their followers saw their posts. The averages were even lower for larger brands with more followers. Why?
The Facebook algorithm.
While Facebook's algorithm isn't the sole element affecting reach, it is unquestionably one of the most powerful. You'll have a lot tougher time having your posts viewed by the individuals who matter most to your business if you don't keep up with changes to the Facebook algorithm.
In 2019, Facebook changed its algorithm to give users greater control over what they see in their news feed, including the ability to learn why a specific post appears in their feed. Fortunately, even without the help of paid ads, marketers can do a lot to ensure that their posts are seen by people.
In this article, we'll give you a quick rundown of how the Facebook algorithm works as well as some ways you can make it work for you.
Understanding How the Facebook Algorithm Works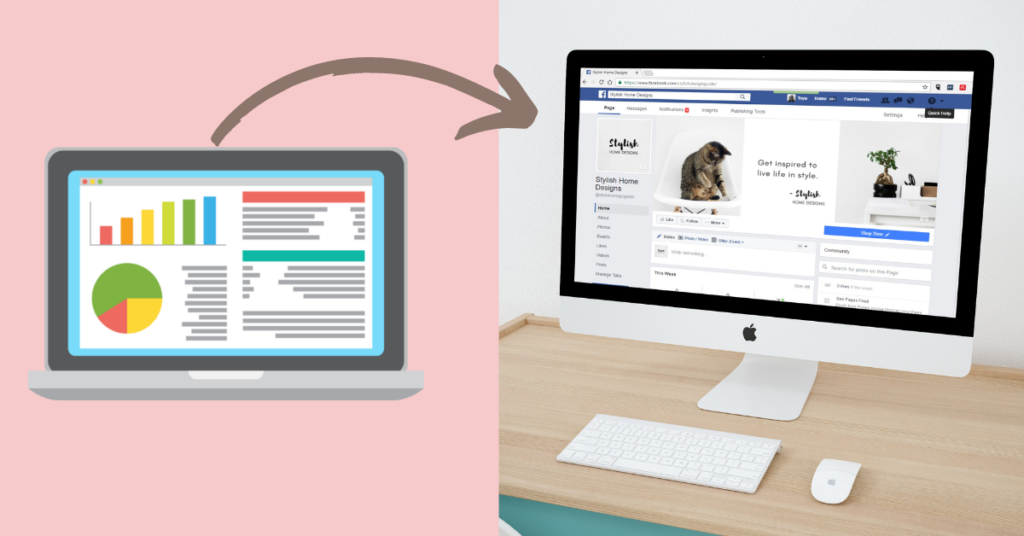 The Facebook algorithm, like search engine algorithms, ranks all postings that have a chance of appearing in a user's news feed based on the likelihood that the user would have a positive reaction to the content. Facebook favors friend posts above brand postings, stressing "meaningful interactions."
Facebook's algorithm is based on four primary signals or factors:
A list (or "inventory") of the posts that are now available to see.
Each post sends signals to Facebook that tell it what it is.
Predictions on how each post in the inventory would be received by users
Based on all of the ranking signals, a final score is calculated.
The ranking elements on Facebook are based on data regarding user behavior as well as the behavior of everyone on the platform. Facebook considers the following three categories:
Who users are most likely to interact with
The format of the content: films, photos, links, and so on.
The popularity of the article
Facebook began directly surveying users a couple of years ago to better understand the content they want to view. Facebook users were asked questions such as:
Who are your closest friends?
What are some of your favorite articles?
What is the significance of this Facebook Group to you?
How eager are you to see content from the Page you've chosen to follow?
Facebook altered its algorithm in reaction to these suggestions, making the news stream more user-friendly. This included displaying more content from Groups and Pages that people have been following or participating with the longest. Other items would be moved to the bottom of the news feed.
Making the Most of Facebook's Algorithm
Facebook's algorithm modifications may be intended to make it more difficult for your brand's postings to be viewed without the use of advertisements. And maybe that's part of the problem. After all, Facebook makes money from ads, so, understandably, they'd want to steer brands in that way.
However, Facebook's upper management understands that displaying people content they don't want to view is a proven way to convince them to abandon the platform. Because Facebook's audience would be smaller, brands will be less willing to pay for ads. So, let's just assume it's a combination of factors: Facebook wants users to be satisfied with what they see in their news feeds, while also encouraging brands to create better, more relevant content if they want to reach users without turning every post into a paid ad.
Because Facebook's algorithm prioritizes more genuine or meaningful connections, your company will need to produce better content to generate genuine interactions. But how do you do it?
We're glad you asked! Here are 8 ways to use Facebook's algorithm to your advantage:
1. Publish Content at the Appropriate Time
Because the Facebook algorithm favors posts with higher engagement, it's critical to know when your audience is online and engaged so you can publish at those times. Check out our article on the ideal times to post on Facebook to get you started. That will serve as a starting point when you go deeper into your Facebook stats to learn more about your target audience and fine-tune your posting schedule.
2. Post Frequently and Consistently
Brands that post regularly are more likely to receive higher levels of interaction. Because Facebook's algorithm appreciates consistency, try to create high-quality content regularly. We strongly advise you to create a Facebook content calendar so you can have content ready to go when you need it.
3. Pay Special Attention to Video Content
Video content has become increasingly popular over the last few years. Stop waiting if you haven't started using video marketing yet.
When generating video content for Facebook, there are three ranking criteria to consider:
Create films with the intent of bringing users back again and again.
Length and duration: Your video should be compelling enough for people to watch for at least one minute, but videos longer than three minutes should be avoided.
Originality: Facebook, like all other social media platforms, appreciates unique content that isn't repurposed from elsewhere.
Also, don't be afraid to use Facebook Live. Your followers will be notified when you go live, which will undoubtedly enhance engagement.
4. Instead of Fishing for Engagement, Encourage Discussion
You know how your younger cousins would constantly post things like "like if you remember this" or "comment a number and I'll do this?" Facebook, on the other hand, is now penalizing businesses that use the same strategies to acquire comments, tags, and likes. While this doesn't rule out the use of such postings, Facebook wants to encourage authors to start conversations rather than simply asking their followers to "like" something.
Use questions to start a discussion and stimulate debate. While you don't want to provide excessively divisive content, there are methods to generate discussion about subjects that are relevant to your business. If you're an email marketing service provider, you may, for example, ask your followers what they think of cold emailing.
5. Refrain from Clicking on Clickbait and Low-Quality Content
Facebook explicitly opposes clickbait, in addition to the engagement bait posts we just highlighted. Clickbait employs links and thumbnails exclusively to attract attention and generate clicks. Clickbait is usually deceptive, sensationalized, or misleading.
Aside from clickbait, Facebook disapproves of the following forms of content:
Fake news and misinformation
Offensive content that does not exceed the forbidden content threshold
Links to sites that aren't useful or include content that has been stolen or scraped
Inaccurate health information
Third-party fact-checkers have identified phony videos.
6. Produce Facebook-only Content
We touched on this briefly in the previous tip, but since Facebook-specific material is so vital to keeping the Facebook algorithm happy, we'll go over it again here.
Even if you're repurposing information you've already published on Facebook, start by generating original and compelling descriptions for your posts. Don't just share the same item again and over. To avoid becoming monotonous, mix it up a little. This isn't limited to your post captions; you may use an image editing tool to make posts into eye-catching photos, or a video editing tool to turn posts into video content.
7. Leverage Facebook Groups
Facebook Groups are one of the best ways to make sure that your followers are seeing your content at the top of their news feeds more often. Create a new group for your brand to take advantage of Facebook Groups' power. This group is for encouraging discussion, providing product education, entertainment, solutions to user problems, and other content that your followers will find useful.
For a more in-depth look at how to use Facebook Groups to connect with your followers and build engaged communities, join our Facebook Group, Digital Marketing for Coaches.
8. Make Use of Facebook Ads
Organic (non-paid) content will help you build and develop relationships with your audience, but we'd be remiss if we didn't include Facebook advertising as the greatest and quickest way to raise brand exposure on the network. You can reach exactly who you need to reach to expand your following with Facebook's audience targeting. You'll be able to better understand the types of material that work for the people you want to reach as a result of this.
Use the Facebook Algorithm to Your Advantage
The Facebook algorithm is becoming better at displaying users only the content they want to view. That's why creating high-quality Facebook content that delights and engages your target audience is critical. Using the ideas above, you'll be able to take advantage of the Facebook algorithm, gain new followers, increase brand visibility, and raise your brand's visibility on the site.
Do you require more info about the Facebook algorithm? Set up a meeting with us today!