Are you looking for SEO software reviews or the top SEO tools in the industry?
We'd never get anything done for our clients if no one produced excellent digital marketing tools for us! And even if we did, it would take 100 times as long as it would if we used the right online tools.
You've arrived at the proper location if you want to buy SEO tools.
This could not be more true when it comes to SEO. SEO is crucial for online marketers, bloggers, and small business owners. Some could even describe it as crucial (which we do!). It's a make-or-break situation. This takes us to the point of this article.
We'll look at ten SEO tools for keyword research, competitor research, ranking tracking, and link building.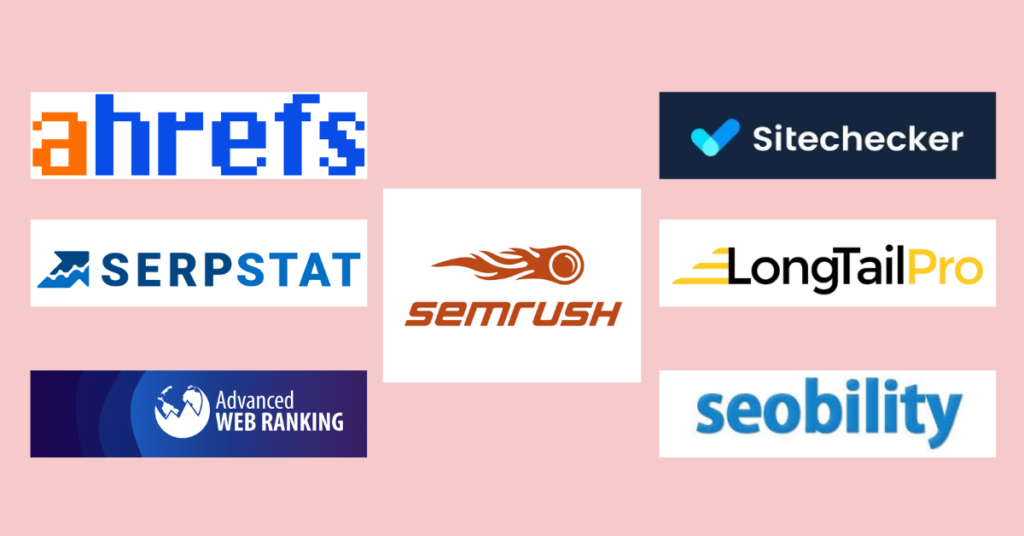 1. Ahrefs
Thousands of internet marketers, small business owners, and SEOs prefer Ahrefs to help them boost their search ranks out of all the SEO tools available.
Among backlink analysis tools, their Site Explorer is the best. They also have a tool called Articles Explorer, which searches the internet for the most popular content on any given topic or phrase.
Another tool from Ahrefs is the Keyword Explorer 2.0. This displays the search volume (global or country), SERP overview and position history, related keyword ideas, and difficulty degree for a given keyword.
The monthly cost is $99, with annual plans available. However, you are permitted to have a free account with restrictions. They also provide free trials for all of their plans.
2. Serpstat
Serpstat is a digital growth hacking tool that can help you improve your SEO, PPC, and content marketing campaigns.
The following are some of the important characteristics of this SEO tool:
Compile a list of keywords for use in SEO and PPC campaigns.
Determine the keyword's worth.
To broaden your semantic core, look for term alternatives and search suggestions:
Look for long-tail keywords.
Find data from around the world.
Examine the usefulness of your web pages.
Examine keyword patterns.
Find out which pages appear in search results for a specific keyword.
Serpstat offers four different plans, A through D, with prices ranging from $19 to $299 per month.
3. Advanced Web Ranking
Advanced Web Ranking is the market's oldest ranking system (it's been around since 2002), and it's known for its accuracy and ability to handle a large number of keywords. This makes it excellent for agencies and in-house SEOs, but small firms and freelancers can also use it.
On both desktop and mobile devices, Advanced Web Ranking allows you to
track local results at the country and city level
obtain ranks on specific search engines, such as Baidu, Yandex, Amazon, and Youtube, among others
send white-label reports with your branding, which you may even host on your website
make competitor analysis (market share, estimated visits, discover new competing websites, and more)
integrate your data into third-party programs with the developer API
Prices begin at around $49 per month, with a 10% discount for yearly subscriptions.
4. Sitechecker
Sitechecker is a simple software that will help you get your website in shape and improve your organic search results without requiring any additional knowledge or expertise in the field of SEO.
You'll be able to examine your site for a variety of SEO-related technical issues, as well as get step-by-step instructions on how to address them.
The Basic Plan is $29 per month. It allows you to add three sites and verify 1500 URLs, 150 keywords, and 3000 backlinks per account. Startup costs $49 per month, and Growing costs $99 per month.
Choose the plan that best fits your needs and make use of all of the features!
5. Seobility
Seobility's goal is to show you how well or poorly your website's overall SEO optimization is performing.
They have four main tools and features:
SEO Check – This tool will analyze your website and provide recommendations for improving its search engine optimization.
Keyword Check – This tool will tell you how effectively your page is optimized for the keyword you've chosen (s).
SEO Compare – This is a tool that compares two pages for the same keyword term.
Ranking Check – This tool evaluates the rankings of your page for any term.
Their free plan allows you to crawl 1.000 pages for each project, analyze up to ten keywords, and compare up to three rivals. However, it is limited to one domain.
With a 30-day free trial, premium plans start at $40 a month.
6. Long Tail Pro
Long Tail Pro just had a change of ownership.
And do you understand what that means? The new ownership group is eager to succeed. They saw potential in Long Tail Pro and are working hard to expand the product.
LTP has gone from being a downloaded application to being a cloud-based application since the change (meaning you can now use it in your browser.)
LTP was already one of the most prominent keyword research tools in the SEO market before it went cloud. This will only make things 10 times easier and faster.
7. SEMRush
Over the last few years, SEMRush has established quite a reputation for itself. They essentially elevated competition research to a new level.
The nicest feature about SEMRush is that you can research your competitors in over 20 different ways. They're referred to as "stealth techniques" by Robbie Richards.
You can find their finest backlinks, keywords, and content, among other things. It's also ideal for PPC and paid traffic.
Which SEO tools are you looking forward to using?
SEO is an essential component of your internet business, whether you like it or not. It's the most effective way to get free organic traffic, leads, and customers.
The SEO tools we have mentioned will help you get high rankings this year. It's time for your company to shine. So get out there and claim it.
If you enjoyed this article on the finest SEO tools, you might also want to check out more blogs on our website. Click here!